March Break Camp – It's Amazing Winter Fun!
Enroll now for out third annual, Camp Kennebec March Break Camp!
Each week is loaded with great winter fun, new camp experiences, opportunities to practice life, social and confidence-building skills, and make new friends!
Campers enjoy dozens of indoor and outdoor activities like snowshoeing, hiking, sledding & tobogganing, skating, ice-fishing, curling, bonfires, sports, games, arts & crafts, a day trip and many more surprises!
We limit our March Break camp enrollment to 20 campers each week, supervised by 10 of Kennebec's most experienced staff members.
March Break Camp Overview & Highlights:
Enjoy our beautiful camp property – 1,000 beautiful, unspoiled, snow-covered acres
Co-ed program open to Camp Kennebec families & non-Kennebecers too
Specially designed for campers aged 6+ with autism, ADHD, developmental delays and other challenges
Low camper to staff ratio, so campers enjoy individualized programs and attention
Campers and staff sleep in heated cottages at the "Point Cottage" or in the "Chalet".
Experienced summer & alumni staff
Campers practice life and social skills while having fun living together in a cabin.  They help cook some of their meals (under staff supervision), keep the cabin clean and work cooperatively to complete tasks
Free transportation to and from Toronto and possibly Ottawa and Montreal if registration permits.  If Toronto isn't convenient for you, we will help you make other travel arrangements, or you can drop off/pick up campers at camp in Arden, Ontario
Cost is $1,600 Canadian plus HST for a one week stay.  Campers who stay for two weeks pay $1,500 per week.
Stay for One or Two Weeks
This year, our Camp Kennebec March Break Camp will coincide with public and private school breaks across Ontario.  Here are links to the Toronto and Ottawa school boards for your reference.
You can register your Kennebecer for one or both weeks:
Sunday March 11 – Saturday March 17, 2017
Sunday March 18 – Saturday March 24, 2017
If your camper's March Break falls outside our current March Break program schedule, and you'd like your camper to attend our March Break camp – please let us know.  If enough campers are interested, we will consider adding an additional March Break week.
Now Camp Kennebec isn't just for the summer anymore. Enjoy Camp Kennebec fun year-round.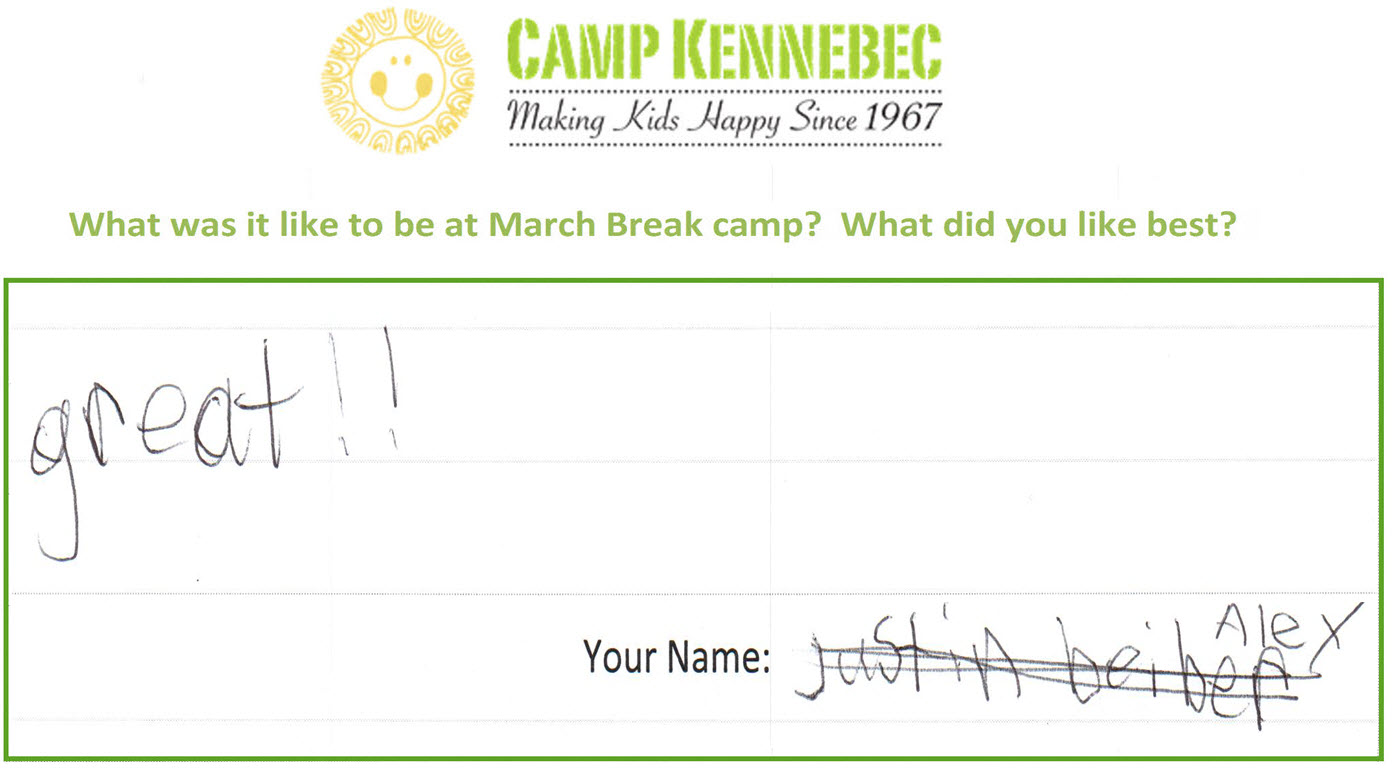 Great! - Alex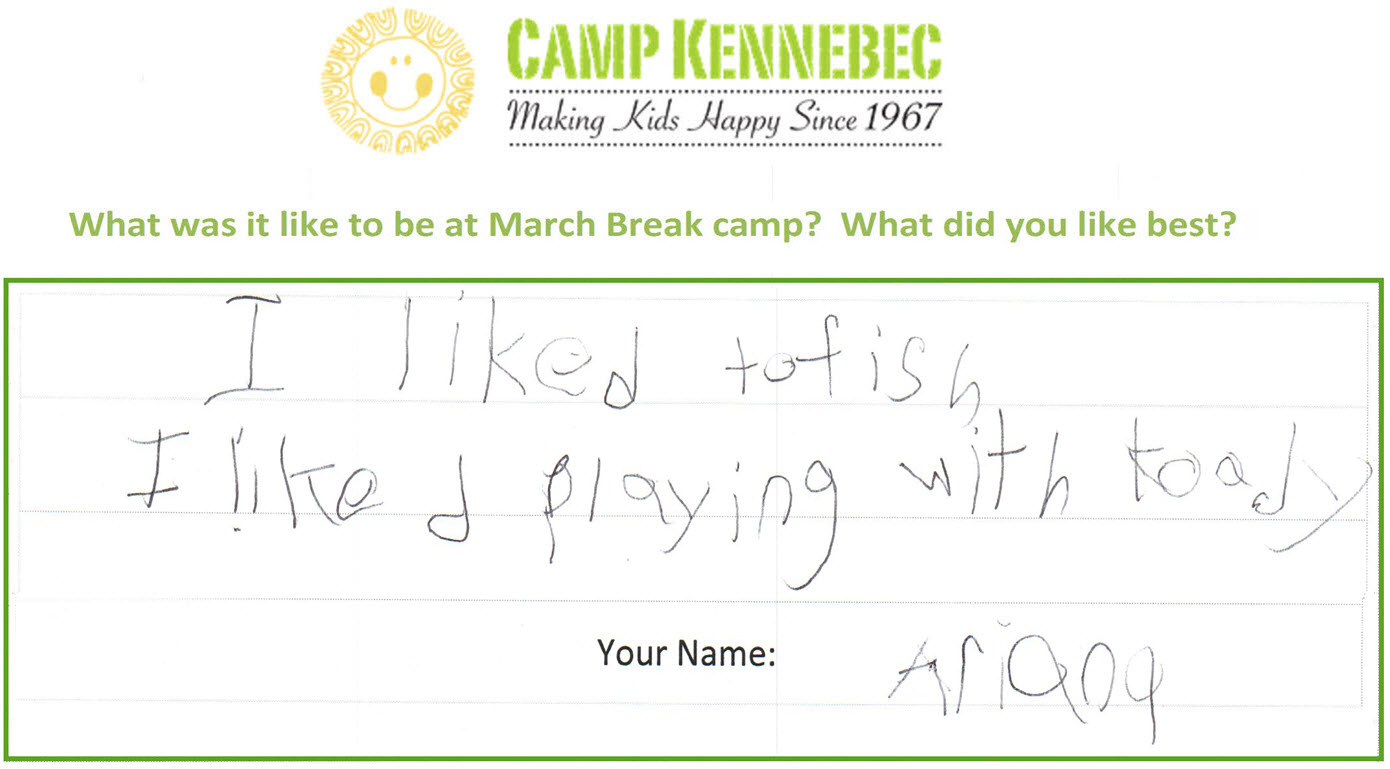 I liked to fish. I liked playing with Cody. - Ariana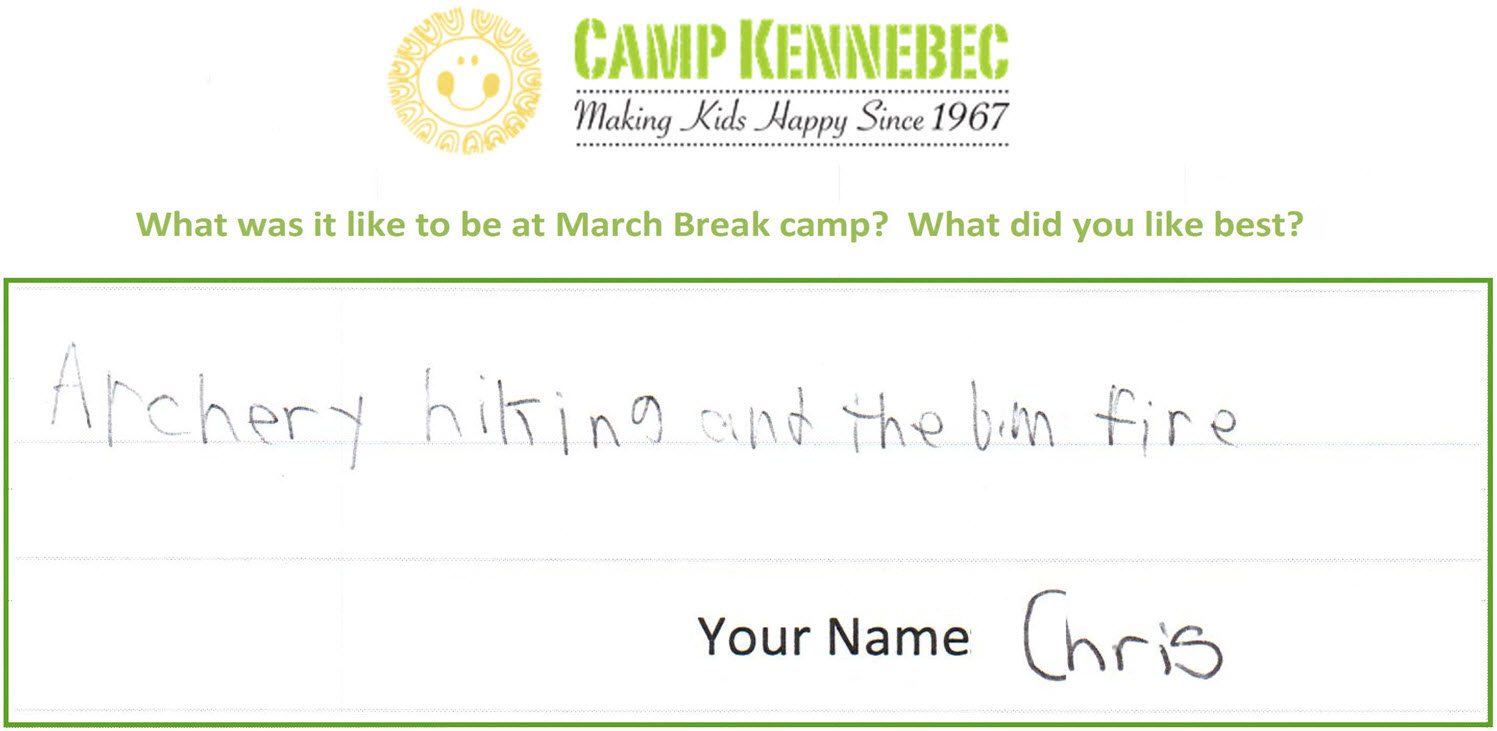 Archery, hiking and the bonfire. - Chris
It was awesome. I liked doing outdoor cooking. I like bowling. I liked fishing on the ice. I loved playing "minute to win it" games. The food was also good. - Cody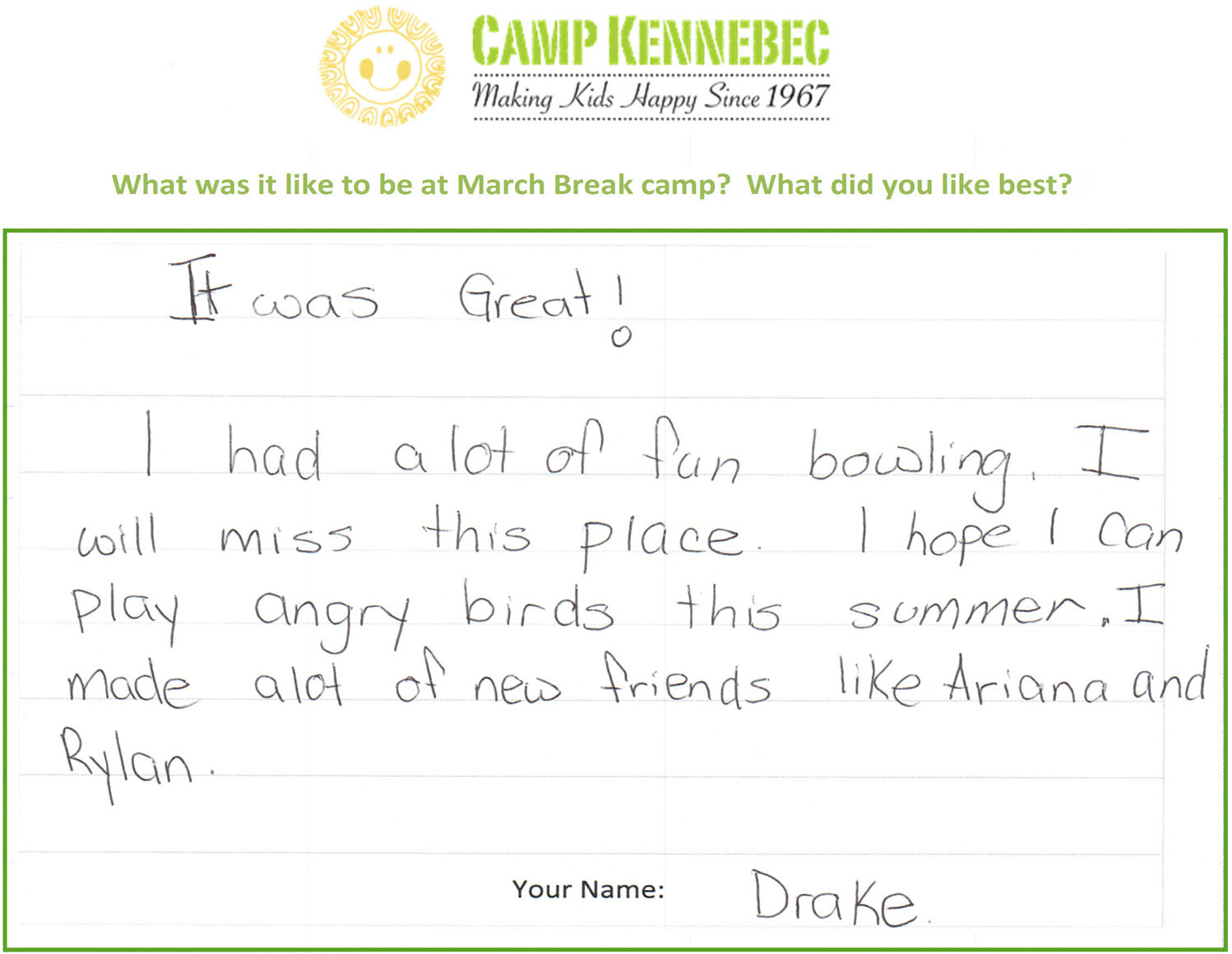 It was great! I had a lot of fun bowling. I will miss this place. I hope I can play Angry Birds this summer. I made a lot of friends like Ariana and Rylan. - Drake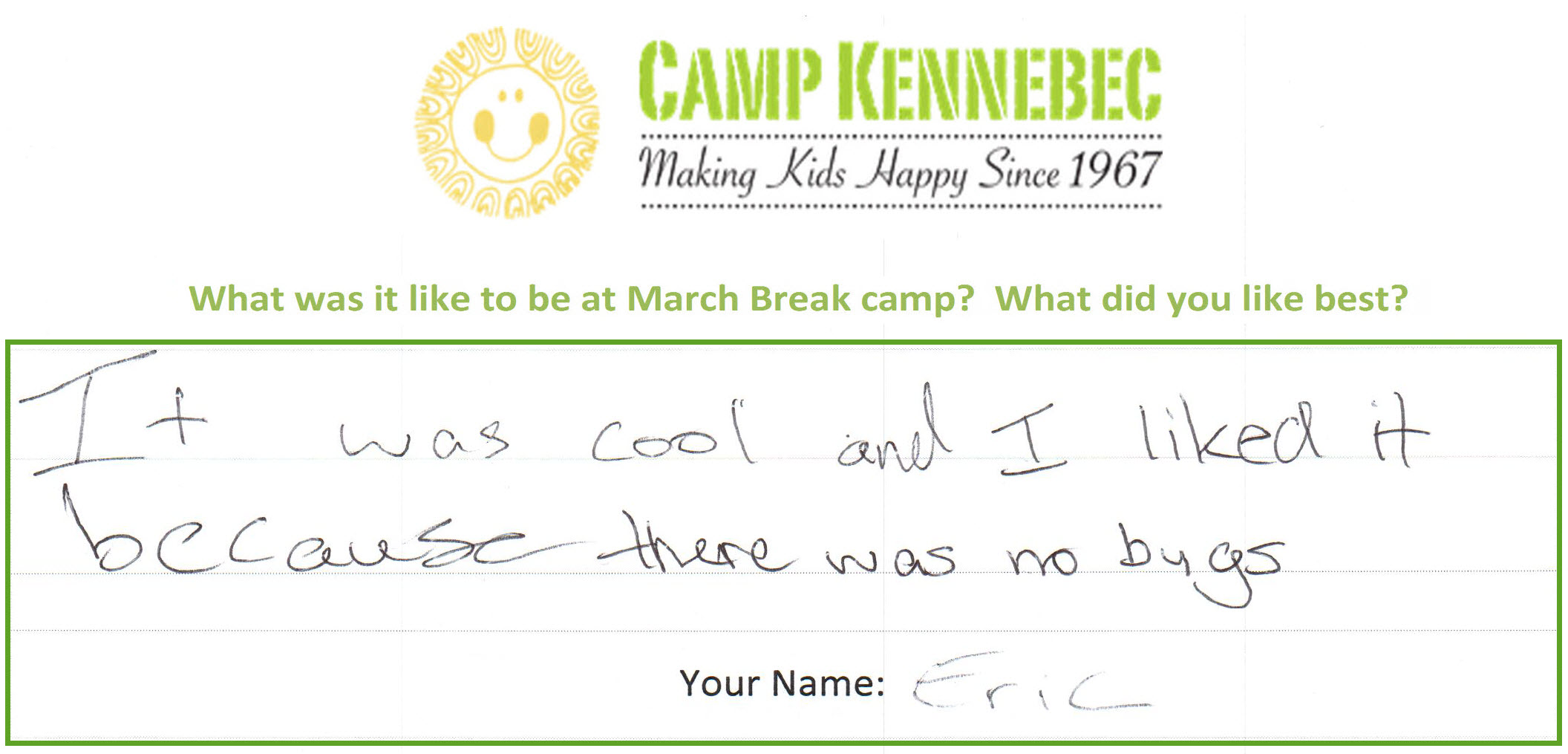 It was cool and I liked it because there were no bugs. - Eric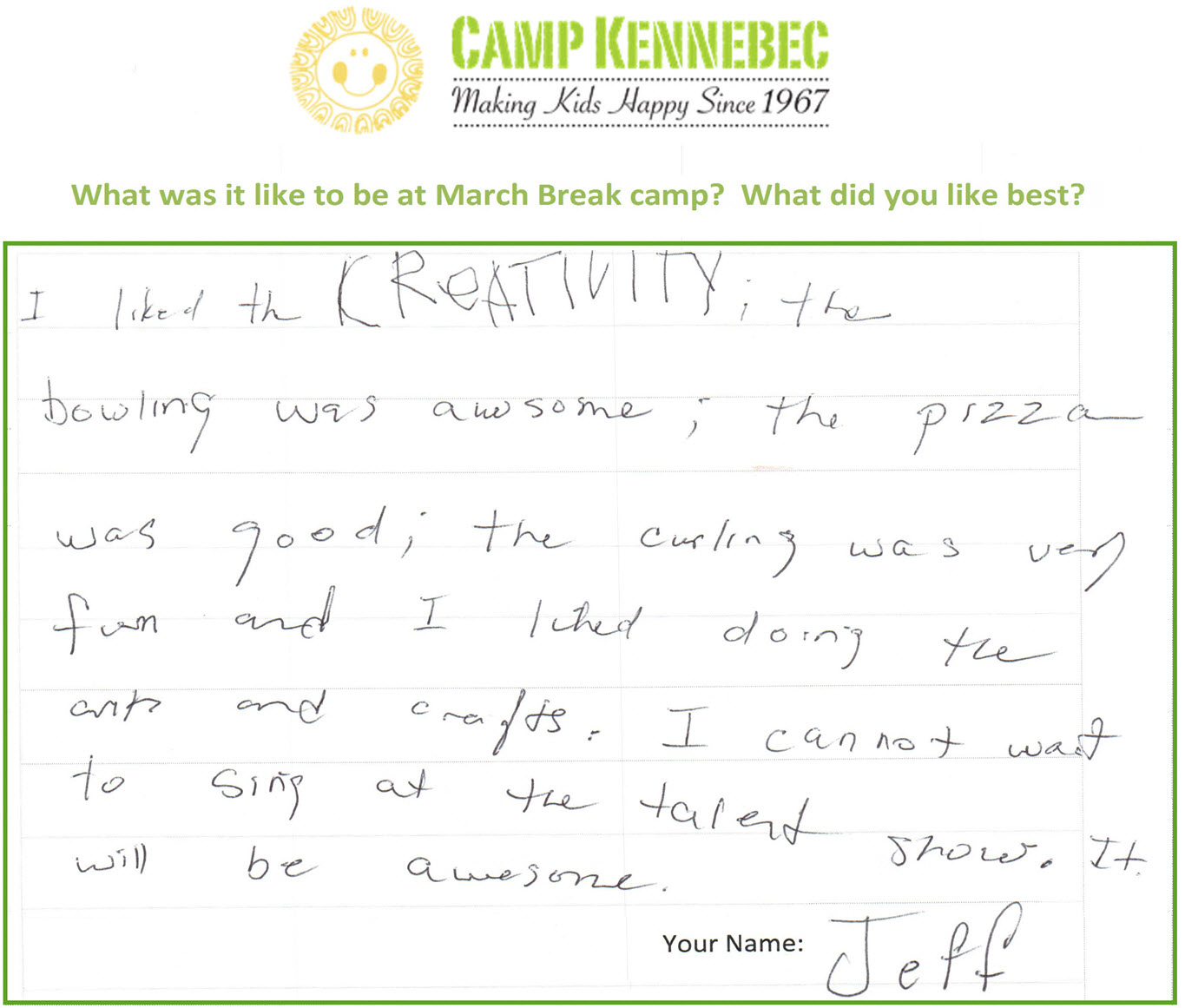 I liked the CREATIVITY; the bowling was awesome; the pizza was good; the curling was very fun and I liked doing the arts & crafts. I cannot wait to sing at the talent show. It will be awesome. - Jeff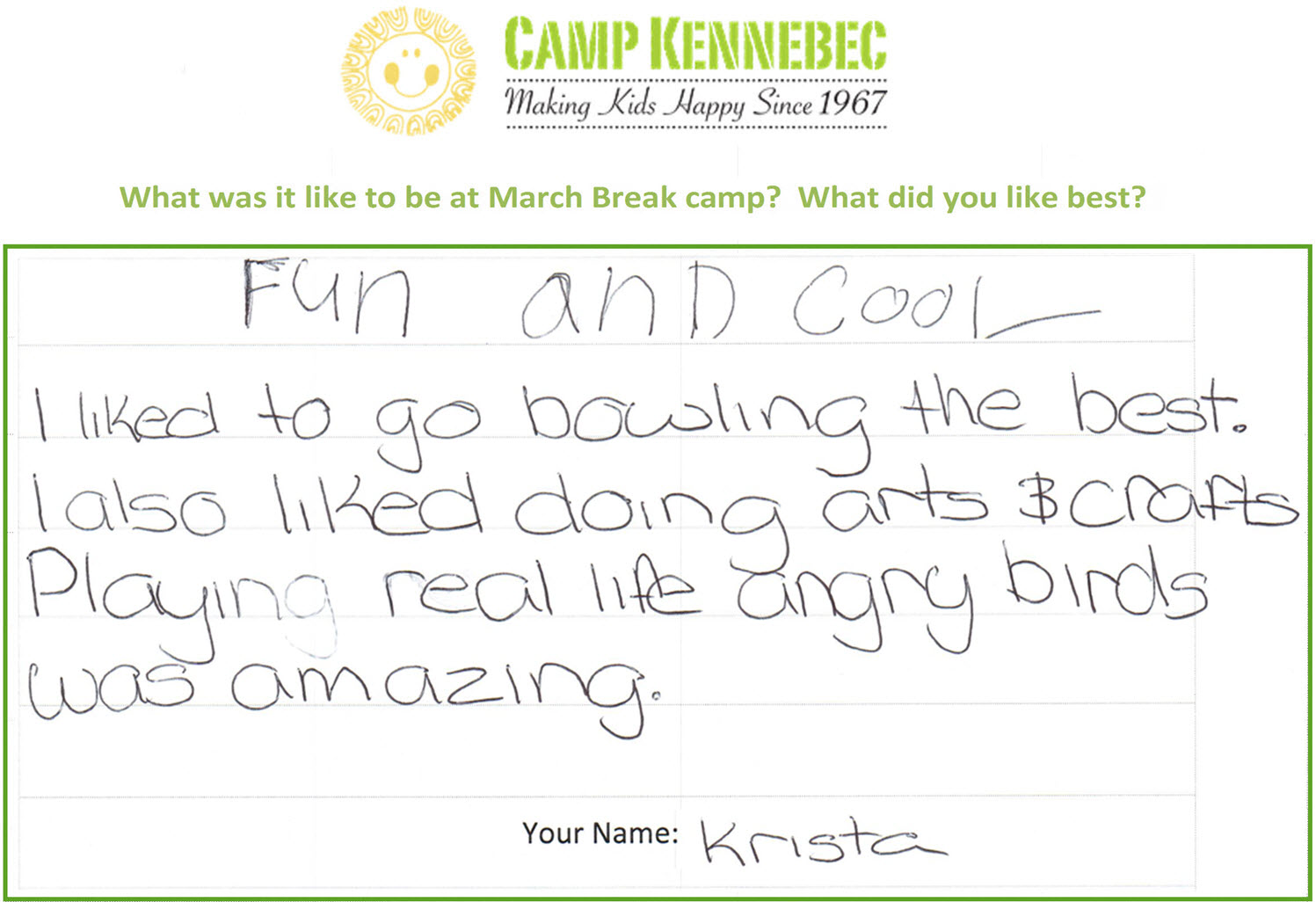 FUN and COOL. I liked to go bowling the best. I also liked doing arts & cratfs. Playing real life Angry Birds was amazing. - Krista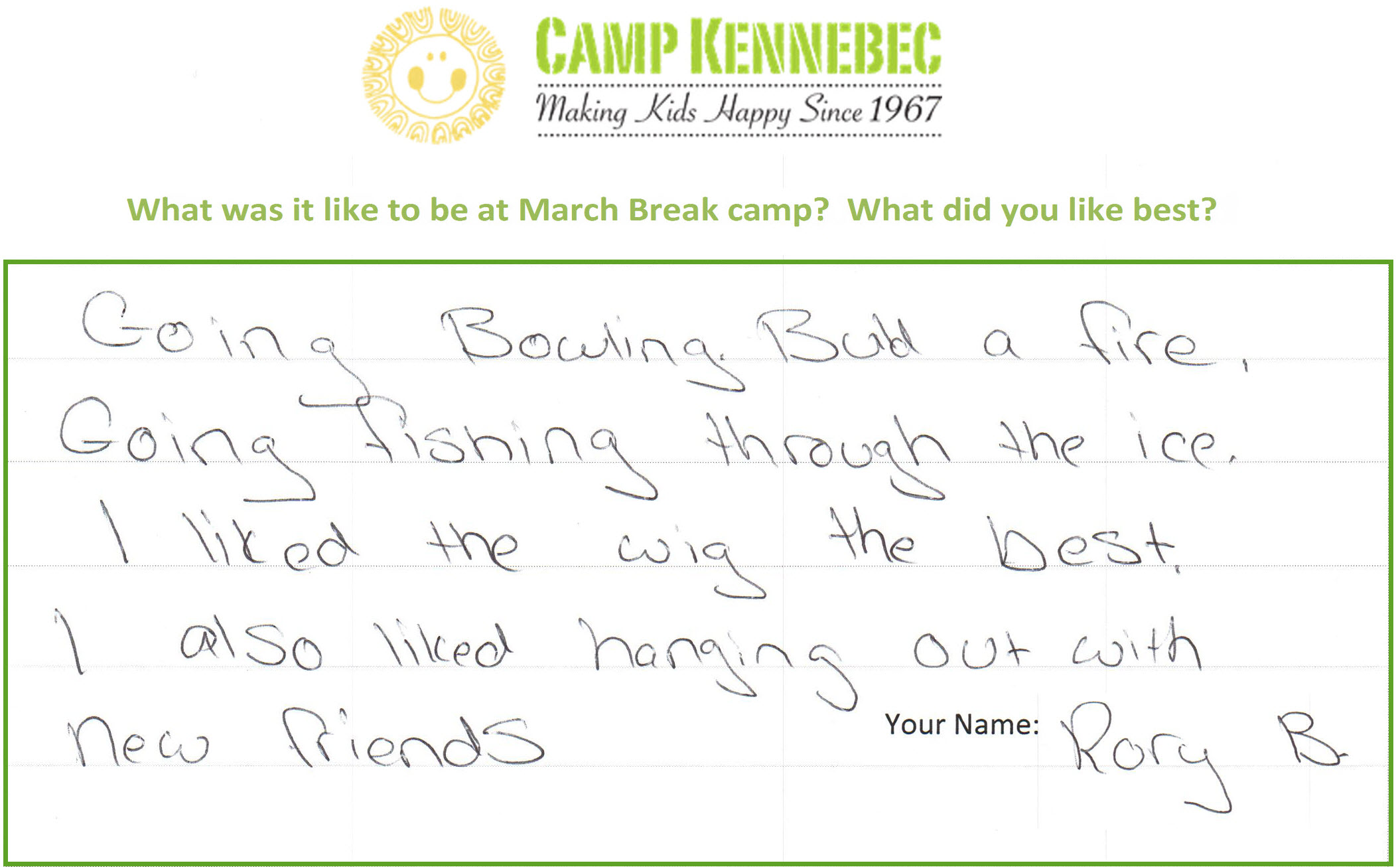 Going bowling. Build a fire. Going fishing through the ice. I liked the wig the best. I also liked hanging out with friends. - Rory B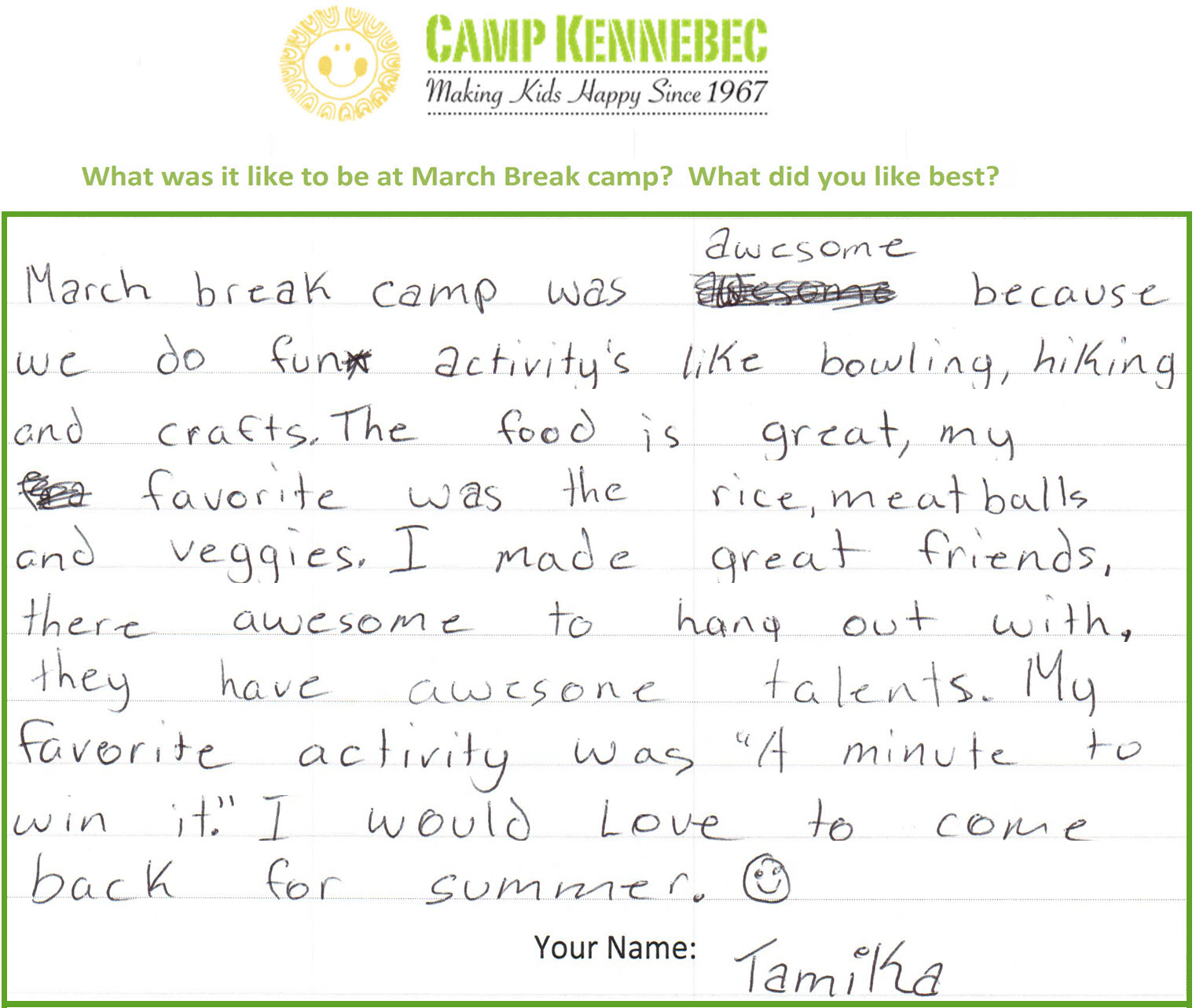 March Break camp was awesome because we do fun activities like bowling, hiking and crafts. The food is great, my favourite was the rice, meatballs and veggies. I made great friends. They're awesome to hang out with. They have awesome talents. My favourite activity was "A Minute to Win It" I would love to come back for summer. - Tamika