Rent Camp Kennebec – It Will Be Perfect for Your Next Group
At Camp Kennebec, we're experts at hosting college, university, youth and religious groups, family reunions, yoga or nature retreats and friends' getaways. In fact, many of our groups return year after year and tell us that we're the best summer camp rental they've ever had.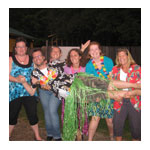 Among our regulars are universities, colleges, Boy Scout troops, a women's-only weekend getaway, and various ethnic and community groups. With enough notice, we can handle groups that are looking for a multi-week summer camp rental.
"We love our time at Camp every summer. It's a great way for our group of friends to get away from it all, catch up on each other's lives and laugh until it hurts — in one of the most beautiful places I've ever been. Donna and Rob are great hosts – they take care of everything for us."
Kim Q. Ottawa, Ontario
Here's Why You Should Rent Camp Kennebec in the spring, late summer or fall
We're located near Arden, Ontario on 1,000 acres with 6 miles of waterfront.

We're 3 hours from Toronto, 1 hour from Kingston, 4 hours from Montreal, and 2 hours from Ottawa.

If your group is looking for an action-packed stay at Camp, we offer waterskiing, ropes course, sailing, canoeing, and virtually all the 50+ activities we offer during our regular camp season, along with the staff to ensure your safety

If your group wants to enjoy nature at its finest, you will appreciate the beauty of our 1,000 acres. You may see many different types of wildlife including loons, blue herons, beavers, otters, deer, turtles, and migratory birds. Hike, walk, jog or bike through our beautiful settings. Or simply relax and take it all-in from a comfortable lawn chair. Our Frontenac County property offers nature lovers some of the least developed lakefront real estate in South Eastern Ontario.

You tell us what you need for your stay. Camp staff can cater all meals or you can cook your own. We can build the program for you or simply act as your hosts. Our cabins and dining hall can accommodate up to 175 guests. We are very flexible when it comes to length of stay – just tell us what you need.

Camp is available for rent from May to mid-June and from mid-August to mid-October.

Please call (613) 335-2114 or email rentals@campkennebec.com for more information